When it comes to dressing according to your body shape, you generally have a basic idea about what gowns best compliment your shape. However, with ever-evolving fashion market, women could easily get diverted while choosing their ideal gowns. Maybe that phenomenal embroidery caught your eye or maybe the fit-and-flare style has always been your rescuer. However, have you ever keenly thought about the structure and design of the gowns that best amplify your body shape? If not, we have created a list of common body shapes and the gowns that go with them. If you are unable to associate with any of the mentioned shapes, try identifying with the one that looks closest to yours.
When you are an hour glass -
The highlight of an hourglass shape is the tiny waist with equal proportions of shoulder and hips. This shape is considered to be the ideal body shape of many women because of its curvy aspects and the conventional narrow waist. However, ladies, you must remember there is no idealism when it comes to body shapes. A woman could look stunning in any given form and to do that she must know what compliments her form. For hourglass ladies, you should look for gowns that reduce the bulk and enhance the narrow waist. Bodycon gowns are ideal for this body type because it hugs your body accentuating your curves along with focusing on the narrow waist.
Avoid wearing extremely flowy or boxy gowns. They make you look bulky and ruin your style statement. You should take pride in your shape and flaunt it as much as possible.
When you are an apple -
An apple body type is the one where you have a lesser weight down your waist compared to the midsection of your body. This shape is usually characterized by slim legs and a full face. The fashion motto that must be followed by an apple shape is to define her waist by adding fullness around the hips so that it equals the upper portion of the body. Ideal gowns for this type are the A-line and fit-and-flare gowns that create a fullness around the hip area.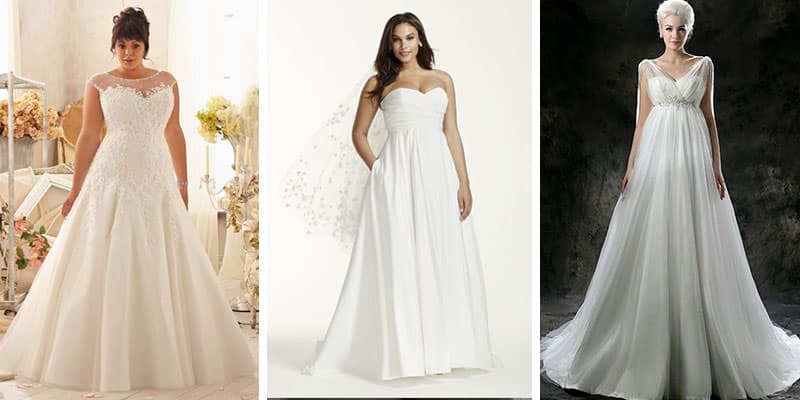 As an apple, one must avoid wearing bodycon dresses and gowns. It accentuates the uneven distribution of mass creating an awkward look.
When you a pear -
This body shape is best described as the opposite of the apple shape. This type is characterized by maximum weight around the hip area compared to the upper section of the body. If you're a pear you must struggle with losing your thighs and hip weight. It gets annoying, doesn't it? Yet why not dress accordingly and show off your curves rather than getting rid of them? Try an off-shouldered or bare-shouldered fit-and-flare to draw attention around your shoulders. This keeps your hips out of focus. Your goal should be to emphasize your narrow waist to even out the width of your hips. Try natural waistline gowns that amplify your bust.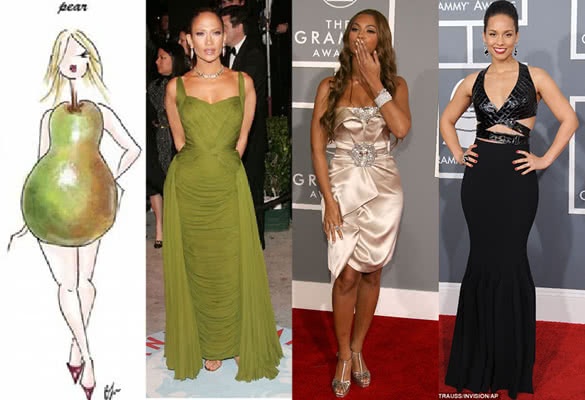 Avoid wearing oversized gowns or body hugging dresses. Try to draw maximum attention to your upper body area.w
When you are a banana -
Also known as the boyish body type, a banana should have equal proportions of shoulders and hip with an undefined waist. They do not gain weight easily and look charming and playful throughout their lives. Try out dynamic color block gowns that bring out your feminine curves. Choose a scoop or boat neckline gown; this will add a curvy aspect to your look. You could also look for a flared gowns with a cut around your waist to give your lower body some fullness while accentuating your waistline.
As a banana, you must avoid dull colored gowns and baggy fittings. It's best if you don't wear shapeless dresses because then, you tend to look boring.
When you are an orange -
An orange is not often acknowledged among the common body types. However, studies have shown that this shape is quite prevalent among women of all ages. If you're an orange then you're likely to have a waist that's widest of all, and your shoulders and hips are much narrower. This body type has almost flat buttocks, however, its graceful and slender legs make up for all. As an orange, you're looking for gowns with empire waists. This draws attention from your wide tummy area. You could choose dresses and gowns with interesting and bold necklines to put your bust and shoulders on focus. Also, don't shy away from showing off those goddesses-like legs.
Body hugging gowns are a strict no-no for an orange. Also, it is recommended to avoid gowns that have a slit around the waist; you do not want to draw attention there.
Article Source :
http://www.veethi.com/articles/different-types-of-gowns-according-to-your-body-shape-article-3909.htm
Keywords :
party wear gown , ethnic gown , evening gown