"Today also the work is not done" my father spoke through phone from Coimbatore in a sad tone.
"What do they say?"
"It seems it will take another two or three days"
No one expected that such an accident would take place when it was only 15 days more for my brother's marriage. He bought a brand new Swift Diesel only a week before and took that to Coimbatore accompanied by my parents for inviting relatives and friends. Road construction works were going on in the route between Erode and Coimbatore and near Neelambur, by mistake he entered the wrong way. Not knowing what to do next, he stopped the car on the roadside.
A mini auto was fast approaching. With a thumping heart, my brother was banging the horn and switching on and off the light.
CRAAAAAAASHHHHHH!!!!
What should not happen had happened. The right front exterior of the car was smashed but no damage inside and no harm to anyone. The real story starts only here and it is the story, how we had to fight with the government servants to resolve the related issues.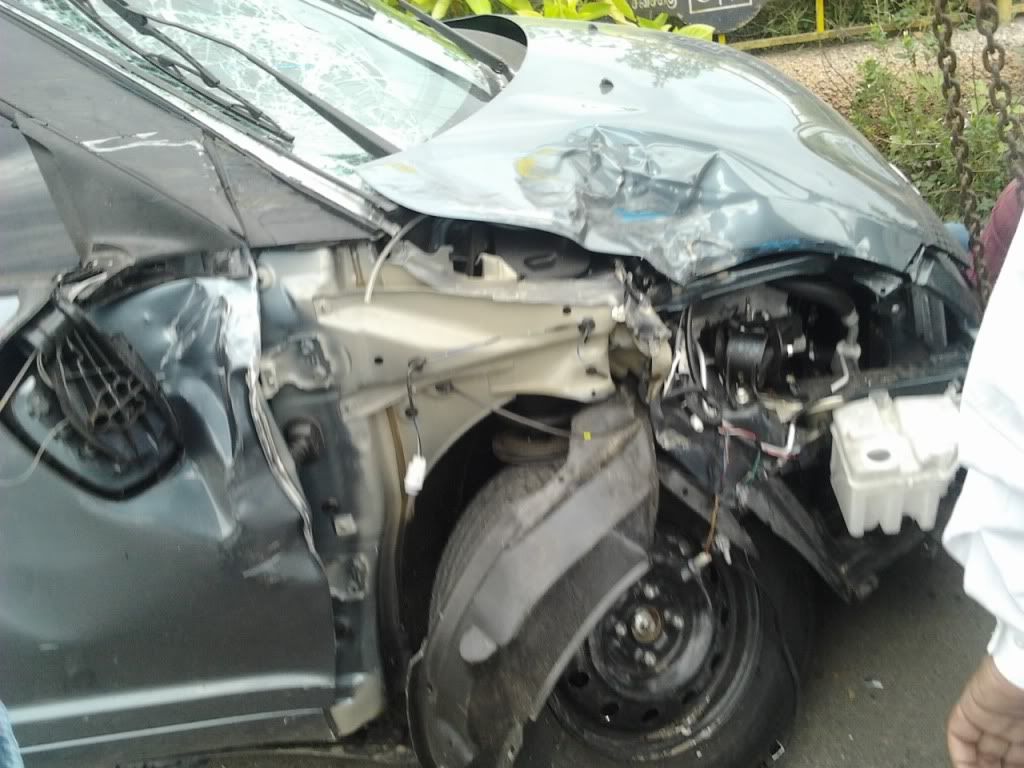 The car was registered only a week before in Bangalore and the smart card and insurance particulars were not issued until that time. My brother called the police and the recovery van took the damaged car to the police station. Some formalities had to be done there and then the car should be taken to the RTO office and after signing some papers, it had to be handed over to the company for repair and claiming insurance.
It was Monday the next day and my two brothers went to Coimbatore police station to get the things done. Nothing happened on that day and the work was procrastinated. They both went the next day also and came home disappointed. They understood that the police officer expected something from them. The smart card was not yet received from Bangalore RTO and it was needed badly at that time. So my younger brother went to Bangalore to move the papers and after offering a bribe got that in a day and sent that to Erode.
Third day that is on Wednesday, my other brother went to Coimbatore and after paying Rs.2000 to the police released the car and took it to the RTO office. Some formalities were pending in the RTO office. Both my brothers were very tired of going everyday from Erode to Coimbatore.
On fourth day my father went with my brother to Coimbatore. I expected that my father would take me with him. But he did not call me. After all I am a daughter and not a son to initiate things.
But things did not materialize on Thursday also. My brother was fed up and did not want to go on Friday. So my father decided to go on Friday all alone. I thought he will seek my help at least at that time. But he did not. The power of woman is always underestimated in our community.
It was on Friday that my father called me and said sadly, "Today also work is not done. It seems it will take few more days"
Only ten days more for my brother's marriage and this new car on the day of his wedding would mean a lot to him. He had also planned his honeymoon travel in that and so was greatly upset. And other marriage works were pending due to that issue.
I wanted to help my father. But I was in Erode and he was in Coimbatore. I wanted to do something but did not know what to do.
I told my father, "Dad you keep your belief on your sons but not your daughter. You know very well that I have prior experience dealing with the government officials. I could have done things for you if you have taken me with you. Please wait for an hour and let me see if anything could be done from here"
I browsed and got into the RTO website of Coimbatore. I found out the phone number of the transport commissioner. I called him over phone.
"May I know who is speaking?"
I did not know what to say. I simply said, "I am public speaking from Erode. I want to speak to the commissioner"
"I am P.A. to the commissioner. Commissioner is not here. What is the matter?"
"A car met with an accident has to be cleared from RTO office and I want to speak about that"
"Ok! Call after ten minutes"
I waited. In the meanwhile I called my father and said to wait for some more time. He almost lost all hopes and was preparing to move back.
I called the commissioner office again. This time I could get him over phone. I said the matters briefly. Sometimes Blah…. Blah…. Blah…. in English brings more respect and response than vernacular language.
"Well, you seem to be a knowledgeable person. Why didn't you go with your father?" the commissioner asked me. Upon my request, he assured me that he will speak to the RTO.
I called my father again and told him to go to RTO immediately. He went there and was welcomed by the peon, "Sir…. Please come inside. RTO is waiting for you"
My father was astonished not knowing what had happened in a short gap. Everything appeared a magic to him. One of the clerks took a slip, pasted the stamp, sealed it and did everything on my father's behalf and he was taken to RTO in no time without spending a dime.
"Sir, you cannot expect to get things happen fast. You need to wait and give us some time. I do it immediately because my higher officer has instructed me." said the RTO.
My father thanked him and came out. He called the Maruti Service Center and handed over the car to them. After things were over, he called me.
"What did you do? I could not believe my eyes and ears. How could you make things happen?" My father was nearly in the verge of tears out of happiness.
"Dad, it is all due to the power of internet. I deduced the phone number of the higher official and spoke to him. That's all I did"
I think my father was slightly ashamed. As a mark of gratitude he gave me a nice treat in hotel that night. On hearing this matter, the joy of my brother knew no bounds. He thanked me a million times though I did nothing big for him than spending few minutes over phone.
If you ask me what happened to the car then, it was ready on the exact eve of the wedding and looked as fresh as from the factory. And yes, the honeymoon days at Munnar for my brother became the sweetest days in his life.
Article Source :
http://www.veethi.com/articles/after-all-i-am-a-daughter-article-705.htm
Keywords :
Corruption in government office , status of women in India , RTO office